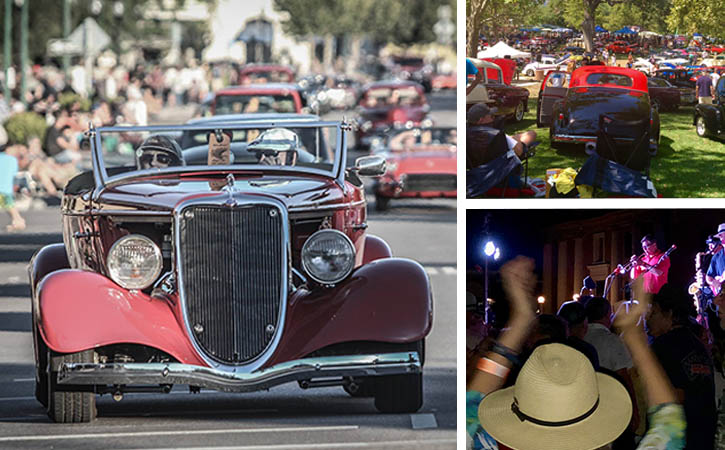 August 18, 2023 - August 19, 2023
see below!
End your summer in style by coming out to Atascadero's Cruisin' Weekend!
Plan to be in Downtown Atascadero on August 18th and 19th for your favorite, annual Atascadero tradition!
The weekend kicks off with the 30th Annual Hot El Camino Cruise Nite on Friday, August 18th at 6:30 p.m., continues on Saturday, August 19th , with the 32nd Annual Mid State Cruizers Car Show from 10 am – 3 pm at Atascadero Lake Park followed by our 7th Annual Dancing in the Streets in the Downtown from 5-9 pm!
Hot El Camino Cruise Nite is one of the largest and most popular annual events in San Luis Obispo County and one of the City's signature events! On Friday evening, over 400 local cruisers from the 1950s and 1960's come downtown from across California. These beautifully, restored antique cars will cruise up and down El Camino Real on Friday, August 18th from 6:30 – 8:30 pm. Over the years, Cruise Nite has grown immensely, and has expanded to be a fun weekend event for locals and tourists alike. For pre-registration call (805) 470-3360.
Following the Cruise Nite festivities is the Mid-State Cruisers Car Show at Atascadero Lake Park on Saturday, August 19th from 10 am until 3 pm, where you can check out the interior and exterior of a wide variety of antique cars. These cars will then cruise on over to the downtown at 5 pm and will park in a VIP area next to City Hall to kick off our 7th Annual Dancing in the Streets!
On Saturday evening at 5 pm, Dancing in the Streets will jump-start the evening with performances from local bands scattered throughout downtown along with a variety of antique cars on display. Enjoy your favorite bands, community entertainment, food trucks, beer, wine/cider and distillery vendors who will be ready to celebrate a fun evening of music and dancing! The evening promises a full variety of music for everyone's enjoyment and entertainment, whether you want to dance or just appreciate the music and engaging atmosphere! In addition, the downtown merchants and restaurants will be open providing your favorite food and drink to serve hungry guests!
Music Line-up To Be Announced.
It's FREE to attend any of the Cruisin' Weekend events! Food and drinks will be available for purchase and a variety of local merchants will be open!
For information on how to register for the Mid State Cruizers Car Show visit midstatecruizers.org.
For all other information, contact Recreation at (805) 470-3360!
« Back to Events