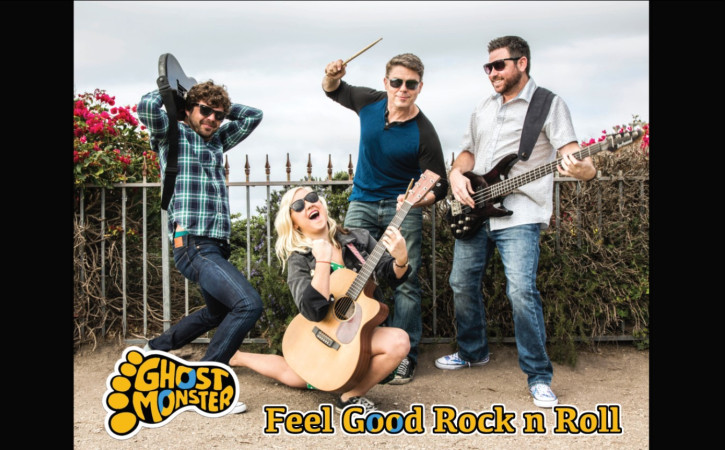 July 23, 2022
6:30pm - 8:30pm
Enjoy the Sounds of Summer with the 2022 "Saturdays in the Park" Summer Concert Series!
This summer's concerts will be held nearly every Saturday evening throughout the summer!
Concert Line-up:
July 2: The Rockin' B's Band

July 9: The Jump Jax

July 23: Ghost Monster

July 30: The Cinders Blues Band

August 6: Soundhouse

August 13: The Counterfeit Kings

August 27: The JD Project

September 3: Stellar

September 10: Truth About Seafood
Ghost Monster is a California "feel good rock 'n' roll" band that performs regularly at a large number of prestigious venues and events on the Central Coast.
Lead vocalist & acoustic guitar player, Nataly Lola is an award winning song writer and her debut self-titled album was produced by Platinum Award Winning Producer and Grammy member & nominee, the late and great Randy Rigby. She has performed with Zach Carothers of the grammy award winning band, Portugal. The Man. She has also shared the bill with Tom Higgenson of Plain White T's. Lead Guitarist Jaxon Camaero, an East Coaster turned Angeleno, has been playing and touring in bands all over the country before finally discovering the beauty of SLO. They perform both as a duo & full band joined by Dale Moon of Travis Larson Band on drums & James Yerkes of Callie Twisselman on bass.
You can hear their original music on the KRUSH 92.5. They released their first full length album "New Stars, New Skies" in 2021 and their song "Nice Guys" won a New Times Music Award.
All concerts are planned for the Atascadero Lake Park Bandstand from 6:30-8:30 pm. Concerts are FREE to the public and everyone is encouraged to bring a blanket, low-back chair, and the entire family to relish the warm summer evenings at Atascadero Lake Park.
If you are interested in being a food vendor at this event or another 2022 Concert Event please complete the form below:
« Back to Events