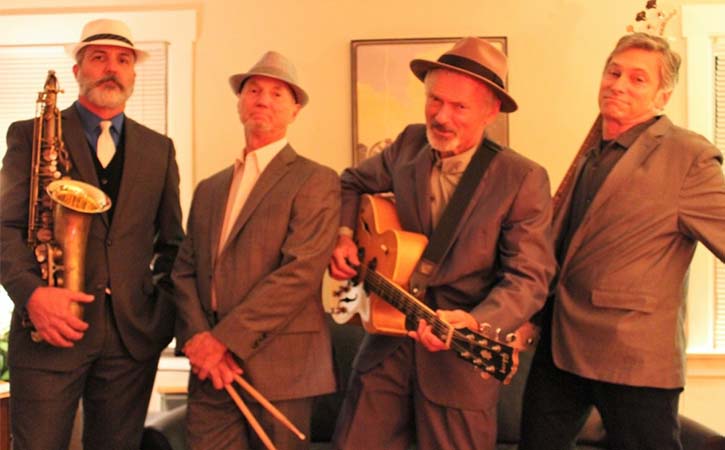 October 6, 2023
5:30 pm
Join us for First Fridays in Downtown Atascadero on the first Friday of Every Month through 2023!
It's another First Friday in the Downtown and the City of Atascadero is excited about October 6th! The event will feature complimentary tours of Historic City Hall and music by the Jump Jax! Starting at 5:30 pm, you can enjoy live music, wine, beer, and other treats while exploring and shopping Downtown businesses.

The Jump Jax are an electrifying quartet bringing their own fresh take on good-time tunes to the Central Coast music scene. Consisting of four seasoned, professional musicians, this group brings an energetic and danceable mix of classic jump blues, swing, soul, and rockabilly along with tasty originals that are guaranteed to get feet moving and hearts pounding.

Songwriter Ted Waterhouse leads the band on fluid electric arch-top and slide guitars and vocals. Ron McCarley lays down swinging jazz and soul riffs on tenor, alto and baritone saxes, and clarinet. Ace drummer Michael Smothers provides the cookin' beat and adds superb lead and backing vocals. Bassist Dave Block locks into the grooves while providing more great vocals.


The evening will also include the Fall Sip & Shop with wine and beer tastings at participating merchants. A great way to enjoy shopping and strolling Downtown along with the festivities of the season!

For Sip & Shop ticket information, go to

www.atascaderochamber.org

OR Call (805) 466-2044

.



MARK YOUR CALENDAR FOR UPCOMING FIRST FRIDAY EVENTS IN THE DOWNTOWN:
November 3rd:

Concert in Downtown at The Plaza on El Camino with Erin and the Earthquakes starting at 5:30 pm.
December 1st:

Light up the Downtown PLUS Holiday Sip & Shop starting at 5:30 pm!
THANK YOU TO OUR PRESENTING SPONSORS!
Barley & Boar Brewhouse

Cielo Ristorante & Rooftop Bar

Street Side Ale House


First Friday events are FREE to attend and kick-off between 5:30 – 6 pm! For more information on this and other events, go to

www.visitatascadero.com/events.
« Back to Events