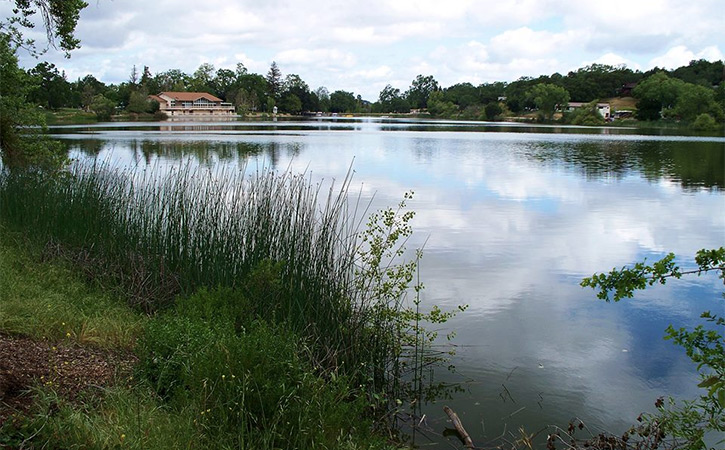 Atascadero Lake Park
Merchant Avenue, Atascadero
This park is the destination for residents and visitors year-round. Atascadero's charm is accentuated by the beautiful lake. There is a walking path that follows the edge of the lake for a stroll, jog or bike ride lakeside. The park also has a playground, paddle boats, bike rentals, workout stations, restroom facilities, large and small barbecue areas, horseshoe pits and the Charles Paddock Zoo. For more information or to reserve a BBQ area, please call (805) 470-3360.
For the Paddle Boats, Mr. Putters Boathouse will be open Saturday and Sunday from 10 am until 6 pm and Starting June 2022, hours will be extended to include Friday from 10 am until 6 pm.
Colony Park
5599 Traffic Way, Atascadero
This park has a great picnic area, softball fields, an area for outdoor games including Pickle Ball and Petanque. In addition, it has a NEW All-Inclusive Playground, the Joy Playground for all ages and abilities. It's right next to the Colony Park Community Center along with the A-Town Skate Park nearby!
Heilmann Park
1100 El Bordo Ave, Atascadero
The park has great picnic areas, a trail, disc golf, tennis courts, and a water play area for kids during the hot summer. It's right next to Chalk Mountain. Also home to the Heilmann Dog Park.
Paloma Creek Park
11665 Viejo Camino, Atascadero
Paloma Creek Park is one of the larger parks in Atascadero made up mostly of 2 lighted softball fields, an equestrian arena, a little league field, and 2 multi-purpose fields. It is a nice, clean, friendly park with lots of shaded trees that are perfect to sit under and cheer on your kiddos or spouse playing in a sporting event.
Sunken Gardens Park
El Camino Real,West Mall, Atascadero
The Sunken Gardens is a centerpiece for Atascadero. All local events have something going on here! Expansive lawns, well-manicured, a central fountain, and meandering walkways, make this a local favorite.