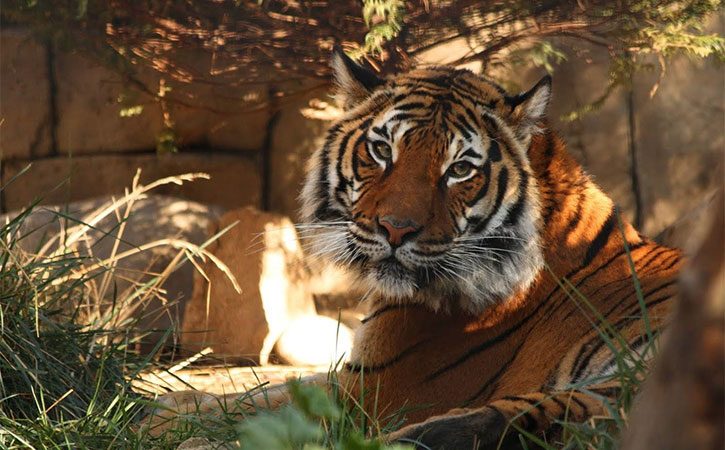 The Charles Paddock Zoo was started by Charles "Chuck" Paddock, a county park ranger, in the county animal shelter in 1955. Paddock would nurse wild animals back to health, and by 1959 his menagerie contained over 125 birds and mammals. In 1963 the animals were moved to the current location adjacent to the Atascadero Lake Park, just off State Route 41, and the new zoo was named Atascadero Children's Zoo. In 1979, the City of Atascadero took over management of the zoo after it was incorporated. The name was changed to Charles Paddock Zoo in honor of its founder in 1980.
The zoo is home to more than 200 animals.
Birds at the zoo include American flamingo; crested screamer; Orinoco goose; red-legged seriema; scarlet and blue & gold macaws; red vented bulbul; great horned owl; emu; burrowing owl and king vulture among others. The recently renovated walk-through aviary includes species such: bearded barbet; crested coua; white-faced whistling duck; white-cheeked turaco; troupial and Von derDecken's Hornbill.
Mammals at the zoo include Malayan tiger; red panda; fossa; fisher; Jacob's sheep; Alpaca; titi monkey; African crested porcupine, Bennett's wallaby, black-handed spider monkey, bat-eared fox; Mara (Patagonia Cavy); prehensile-tailed porcupine; Prevost's squirrel; slender-tailed meerkat among others.
Reptiles and amphibians at the zoo include Aldabra giant tortoise, radiated tortoise, blood python; American alligator; Gila monster; red-footed tortoise, and African bullfrog among others.