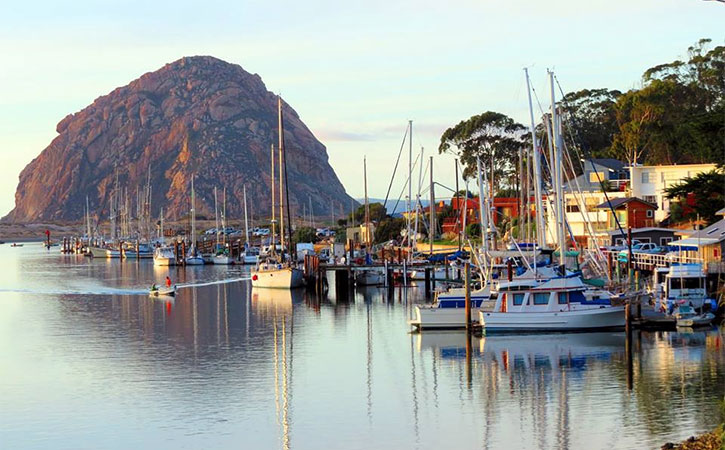 Oceano (33.7 miles)
Oceano's beach is the Oceano Dunes State Vehicular Recreation Area, a 1,500 acres (6.1 km2) coastal sand dune. As the only state park in California where visitors may drive vehicles on the beach, tourists are attracted from all over the United States. Activities on this beach include riding the sand dunes on all-terrain-vehicles, swimming, clamming, camping, surfing, surf fishing, hiking, and bird watching.
---
Pismo Beach (29.3 miles)
The name Pismo comes from the Chumash word for tar, which was gathered from tar springs in Price Canyon near Pismo Beach. It was a valuable product used to caulk canoes. The Pismo clam was named for the long wide beach where so many were once found. Once so abundant they were harvested with plows on the beach, giving the city the name "Clam Capital of the World", the Pismo clam is now greatly diminished.
---
Avila Beach (27.6 miles)
The beach itself is less than 0.5 miles (0.8 km) long and sheltered in San Luis Bay, which is formed by Point San Luis on the west and Fossil Point on the east. Avila Beach faces south and the 600 foot elevation of Point San Luis breaks the prevailing northwesterly winds. It is therefore usually warmer than the other beaches on the Central Coast.
---
Morro Bay (17.4 miles)
The town's most striking feature is Morro Rock, a 576 foot high volcanic plug. Morro Rock stands at the entrance to the harbor, and a causeway connects it with the shore. Previously, it was surrounded by water, but the northern channel was filled in to make the harbor. The Rock, as locals call it, was quarried from 1889 to 1969. There is no public access to the rock itself because it is a reserve for the locally endangered peregrine falcon. However, the area around the base of Morro Rock can be visited.
---
Cayucos (21.2 miles)
Cayucos by-the-Sea is located on California's scenic Central Coast, halfway between Los Angeles and San Francisco. Cayucos sits quietly between the Pacific Ocean and the rolling hillsides of open ranchland and is what some people call "the last of the California beach towns."
---
Cambria (28.7 miles)
Cambria offers a variety of recreational activities such as bicycling, dog walking or hiking. Local beaches offer a venue to boogie board, surf, skimboard or relax. Ocean fishing is conducted off area beaches. Local kayak fishing tours are available.
---
San Simeon (37.4 miles)
San Simeon is a town on the Pacific coast of San Luis Obispo County, California. Its position along State Route 1 is approximately halfway between Los Angeles and San Francisco, each of those cities being roughly 230 mi (370 km) away. A key feature of the area is Hearst Castle, a hilltop mansion built by William Randolph Hearst in the early 20th century that is now a tourist attraction. The area is also home to a large northern elephant seal rookery.